Chiropractor James Derbes D.C.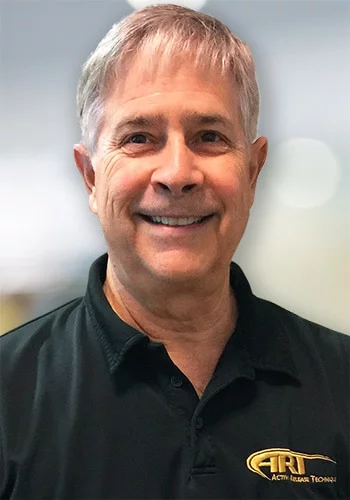 Dr. Jim Derbes is a Jesuit High School graduate. He has a B.A. From LSU in Philosophy. He went on to receive his Doctor of Chiropractic, Magna Cum Laude, from Life Chiropractic College in Atlanta. He has been married for 35 years to Bonnie Derbes, who manages the office. They have two sons; the youngest, Dr. Ben Derbes is now working in the Mandeville office.
Dr. Derbes has every Active Release Technique certification. Seeing an ART Provider is like seeing a soft tissue and nerve specialist. Until now, no such specialist existed. ART soft tissue management system is so different that it has been granted a medical patent.
Active Release Technique is the Gold Standard for muscle and joint problems. It is an exclusive group that have obtained an ART certification. Since an ART Provider is qualified to diagnose and treat over 400 structures, we see a broad range of injuries and conditions. ART is successful for professional and amateur athletes, people who just work hard and hurt, and people injured in auto accidents or at work.
---
CHIROPRACTOR BEN DERBES D.C.
At Life University, Dr. Ben Derbes studied a variety of chiropractic treatments, including but not limited to: Cox Technic, Fullspine Technique, Activator Techniques, and Thompson Technique. As a chiropractor, Dr. Ben Derbes has studied health sciences extensively. A list of mandatory coursework from Life University may be found here: https://www.life.edu/academic-pages/chiropractic/chiropractic-curriculum/.
Dr. Ben Derbes provides Active Release Techniques (A.R.T.), the gold standard in soft tissue treatment. Active Release Techniques trained professionals learn to find and treat overused, painful soft tissue for hundreds of structures in the human body, including muscles, tendons, and ligaments. While useful for athletes, victims of trauma, and even nerve entrapments within myofascial tissues, A.R.T. also helps people suffering from daily repetitive stresses. For more information on Active Release Techniques, see http://www.activerelease.com/ART-for-Patients.asp.
Dr. Ben Derbes has studied Cox Flexion-Distraction Technic and has a state-of-the-art, model 8 Cox table. Cox Technic has nearly 50 years of thorough research to support its clinically demonstrated benefits for cervical, thoracic, and lumbar spinal health.  Well-known for helping patients with intervertebral disc herniations.
Dr. Ben Derbes utilizes Activator Techniques, one of the most scientifically researched and supported chiropractic techniques in the world. Activator has shown to be beneficial for a number of conditions, such as: low back pain, neck pain, TMJ pain, sacroiliac joint pain, and more that can be found here https://www.activator.com/research/ and here https://www.activator.com/research/clinical-trials/.
Dr. Ben Derbes has attended Dr. Arthur Croft's whiplash and traumatology module series from the Spine Research Institute of San Diego. Nearly 3 million new whiplash injuries occur every year in the U.S., and approximately half of these people will experience long-term or permanent pain or disability. Dr. Croft's 26 years of research in the field of whiplash thoroughly prepares chiropractors to assess, diagnose, and treat these victims of motor vehicle crashes (a.k.a. auto or automobile accidents). The series likewise provides chiropractors with professional tools to address potential litigation in these cases.
---
BONNIE DERBES - OFFICE MANAGER
Bonnie Derbes has B.A. in Education from the University of New Orleans. She is a certified reading specialist. She received a Gifted Education Certification in Tennessee. Bonnie also has an AMS Montessori Certification from Houston, TX.
OFFICE HOURS
---
Monday
9:00am - 12:00pm
3:00pm - 6:00pm

---
Tuesday
9:00am - 12:00pm
3:00pm - 6:00pm
---
Wednesday
9:00am - 12:00pm
3:00pm - 6:00pm
---
Thursday
9:00am - 12:00pm
3:00pm - 6:00pm
---
Friday
9:00am - 12:00pm
3:00pm - 6:00pm
---
Saturday
Closed