Active Release Techniques in Mandeville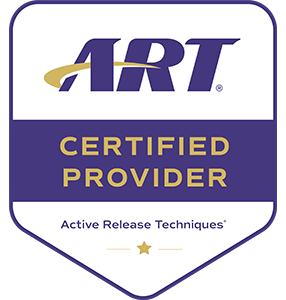 Active Release Techniques (also known as ART®) is the gold standard for soft tissue therapy. A chiropractor by the name of Dr. Michael Leahy has been developing ART® over the past 30 years by working with elite athletes. Dr. Leahy applies his knowledge of anatomy and biomechanics to swiftly eliminate hard to treat soft tissue disorders and get players back into their competitions at full strength. Today, Dr. Leahy not only treats patients at his clinic in Colorado but also regularly works with the Denver Broncos. In fact, many professional athletic teams, including the New Orleans Saints, have ART® practitioners on staff.
Although ART® was originally developed for athletes, it also works wonders for anyone suffering with over-used muscles, tendons, and ligaments. These tissues become damaged in three important ways:
acute conditions (pulls, tears, collisions, etc.)
accumulation of small tears (micro-trauma)
not getting enough oxygen (hypoxia)
Damaged soft tissue accumulates scar tissue. These adhesions glue soft tissue together, restricting normal ranges of motion and causing pain for the individual. Many problems can result, including: plantar fasciitis, carpal tunnel syndrome, knee pain, tennis elbow, shoulder pain, back pain, neck pain, and headaches. Additionally, the nerves can get stuck in these adhesions, creating numbness, tingling, and/or a sharp, shooting pain in the arms or legs.
All of our chiropractors at Mandeville Chiropractic have been certified by ART® instructors with decades of experience practicing Active Release Techniques. Every ART® session combines examination and treatment, and no two sessions are exactly alike. The ART® provider uses their hands to evaluate the texture, tightness, and movement of muscles, fascia, tendons, ligaments, and nerves. Abnormal tissues are treated by combining precisely directed tension with specific patient movements. Please visit Mandeville Chiropractic to have our doctors help you with Active Release Techniques and restore the quality of life that you deserve.
OFFICE HOURS
---
Monday
9:00am - 12:00pm
3:00pm - 6:00pm

---
Tuesday
9:00am - 12:00pm
3:00pm - 6:00pm
---
Wednesday
9:00am - 12:00pm
3:00pm - 6:00pm
---
Thursday
9:00am - 12:00pm
3:00pm - 6:00pm
---
Friday
9:00am - 12:00pm
3:00pm - 6:00pm
---
Saturday
Closed